Save the Children
Raising more money while sending less email: It sounds too good to be true. In our cross-channel engagement with Save the Children, we developed a yearlong plan to engage supporters year-round – and pull off this paradox.
The Goal
When we took over Save the Children's digital program heading into 2019, creating a cadence designed for growing revenue while reducing volume was a key organizational priority. The organization was doing a great job of launching rapid response, but developing an annual cadence that maximized attention and cultivation outside of these moments of high attention became a top priority.
The Strategy
Deepening Relationships Through Cross-Channel Engagement
Through a variety of proprietary tech tools, including bespoke user journeys and interactive experiences like Fill Your Lunchbox!, we invited audiences to engage with the organization's mission all while educating them about Save the Children's lifesaving work.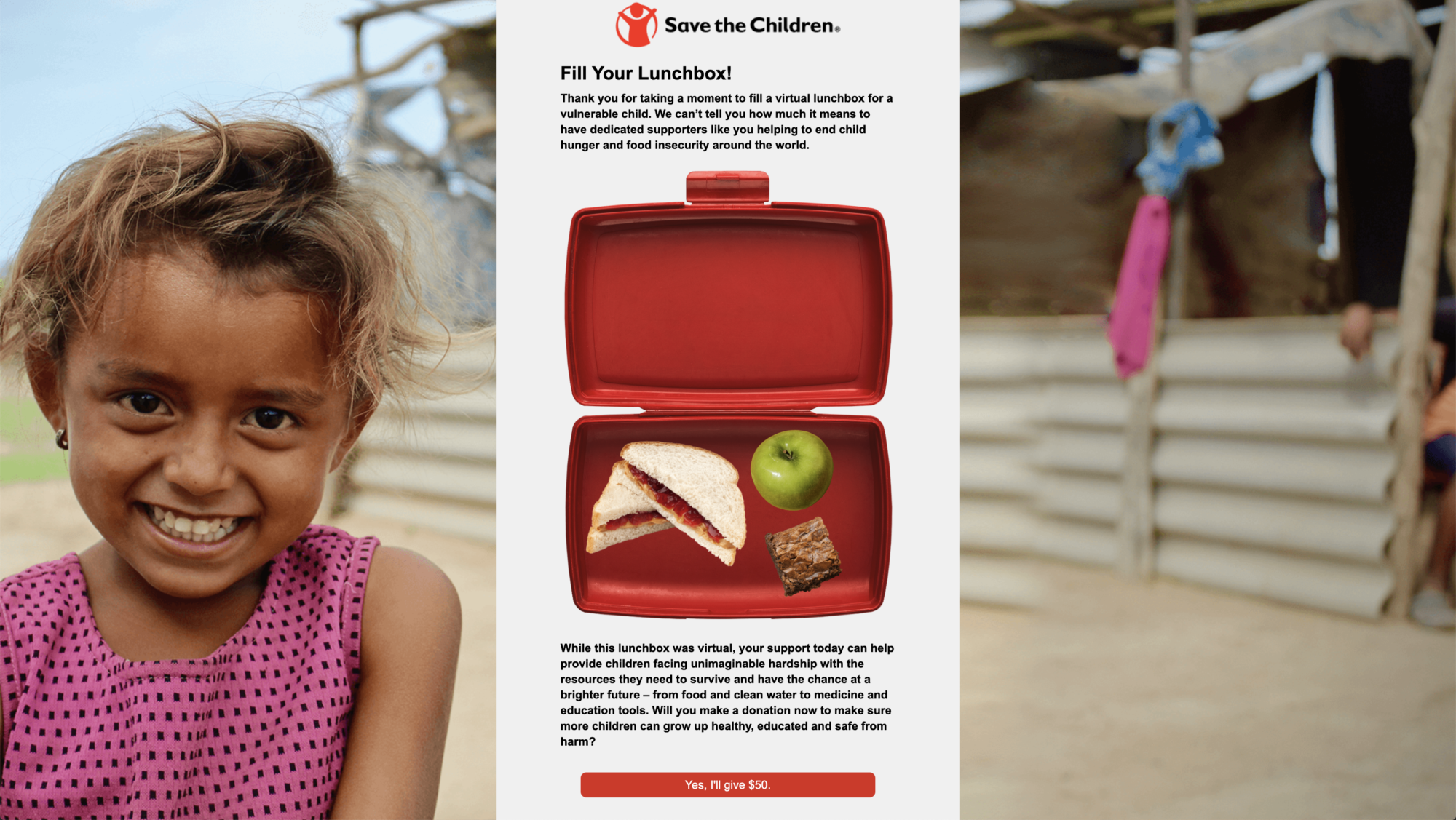 Elsewhere, as part of our ongoing cultivation plan, we utilized welcome streams that capitalized on the interest of new supporters, messages from Jennifer Garner and Amy Adams to announce the #SAVEWITHSTORIES campaign and help kids receive nutritious lunches, and an in-depth look at the organization's COVID response – and, of course, plenty of fundraising messages centered around the organization's priorities. All combined, we drove engagement rates that far outpaced the industry average.
Leaning On Predictive Modeling to Reactivate the Email Audience
Like digging up the backyard for buried treasure, Save the Children's existing audience represented a tremendous amount of new revenue just waiting to be tapped through our AdvantageAI reactivation model. Using terabytes of data and industry-leading modeling capabilities, we precisely pinpointed which lapsed audiences were most likely to convert again – while not impacting deliverability – and served them a new welcome stream of standout content, like the message shown here.
The results: Full return in 14 days, 317% return in one month, and 15,000 supporters reactivated. After two more models, we'd reactivated more than 36,000 supporters.
I've loved every minute of working with MissionWired. They're immensely talented, and that's evident in their accomplishments – but just as importantly, they care deeply about our organization and our cause. Karen Barr, Senior Director of Supporter Acquisition & Retention